Midnight Synergy
is a game developer that has made the Wonderland series.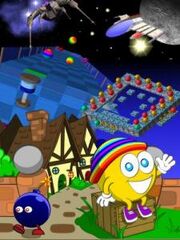 About Midnight Synergy
Edit
Midnight Synergy was founded in 1995 by Patrick Maidorn. Midnight Synergy has been a active game industry for nearly 20 years. They strive to bring you great games at low prices and demos of the games such as: Wonderland, Wonderland Adventures, Intensity XS, andFrazzled. Their games are simple to learn to play for fun for many years to come. Midnight Synergy is based in Regina, Saskatchewan Canada.
Earlier Games and Projects
Edit
Some of these games are now unplayable for newer computers because they were made for DOS & Atari ST, though they made some games for Commondore 64 during the 1980s. The games they had back then were
Operation: Carnage
,
Frying Friends
,
ShadowForce
,
Dark Star
, Quattro,
Superstition
, &
Dungeon Lord
. Please see the games link below:

http://midnightsynergy.com/ancient.htm
Game Prices
Edit
The prices to their games usually cost $19.99 & $34.95 for Return to Wonderland, but for a limited time the games cost $6.99 & $14.99 for Return to Wonderland so get your copies of any of their games for those prices while it last!
Game Collection CD
Edit
Midnight Synergy does have CD rom versions for their games & its Midnight Synergy's Games Collection CD. It includes Wonderland, Return to Wonderland, Wonderland Secret Worlds, Intensity XS, Intensity XS: Recharge, Frazzled, & Colony. It also has bonus material with sketches & screenshots inside it. They one time made retail only copies of their games in Germany.
The Midnight Post is a newsletter created by Midnight Synergy and these used to get released every two months, but The Midnight Post has slowed it run in the recent two years.
These are some of the logos that Midnight Synergy used over the years.
External Links
Edit
http://www.midnightsynergy.com/index.html