Windy Hills is the second area in Wonderland Secret Worlds. It is located south of Stinky's Cove and northwest of WonderTown.
Apperance
Edit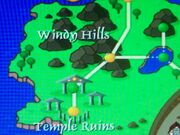 It has big hills, a lake, and the ancient Temple Ruins. The area has a total of 5 levels. There is also a small island known as
Willow Rock
, which is located southwest of the Temple Ruins.